Apples pastry as a Palet. For this recipe created for Valentine's Day 2019, Nina Métayer worked all the Pink Lady® apples as a whole, with zero waste from the core to the skin, to extract all its very special flavours.
| | | |
| --- | --- | --- |
| For | Preparation | Cooking |
| 6 | 3h | 1h |
Pastry  ustensils
In addition to the usual pastry ustensils, you'll need:
4.5cm round silicone moulds (slightly domed if possible) for caramelized apples.
5cm ring silicone moulds for the Ganache montée.
A tart ring or a pastry cutter 5cm diameter for shortbread and biscuit
A Parisian apple spoon or a melon baller
Guitar paper (acetate sheet) to make the stencils for the little chocolate hearts.
Tip: you can adapt the recipe to the size of your equipment (e.g 5,5 and 6cm), and even use alternatives if you don't have all the moulds, like piping the ganache montée.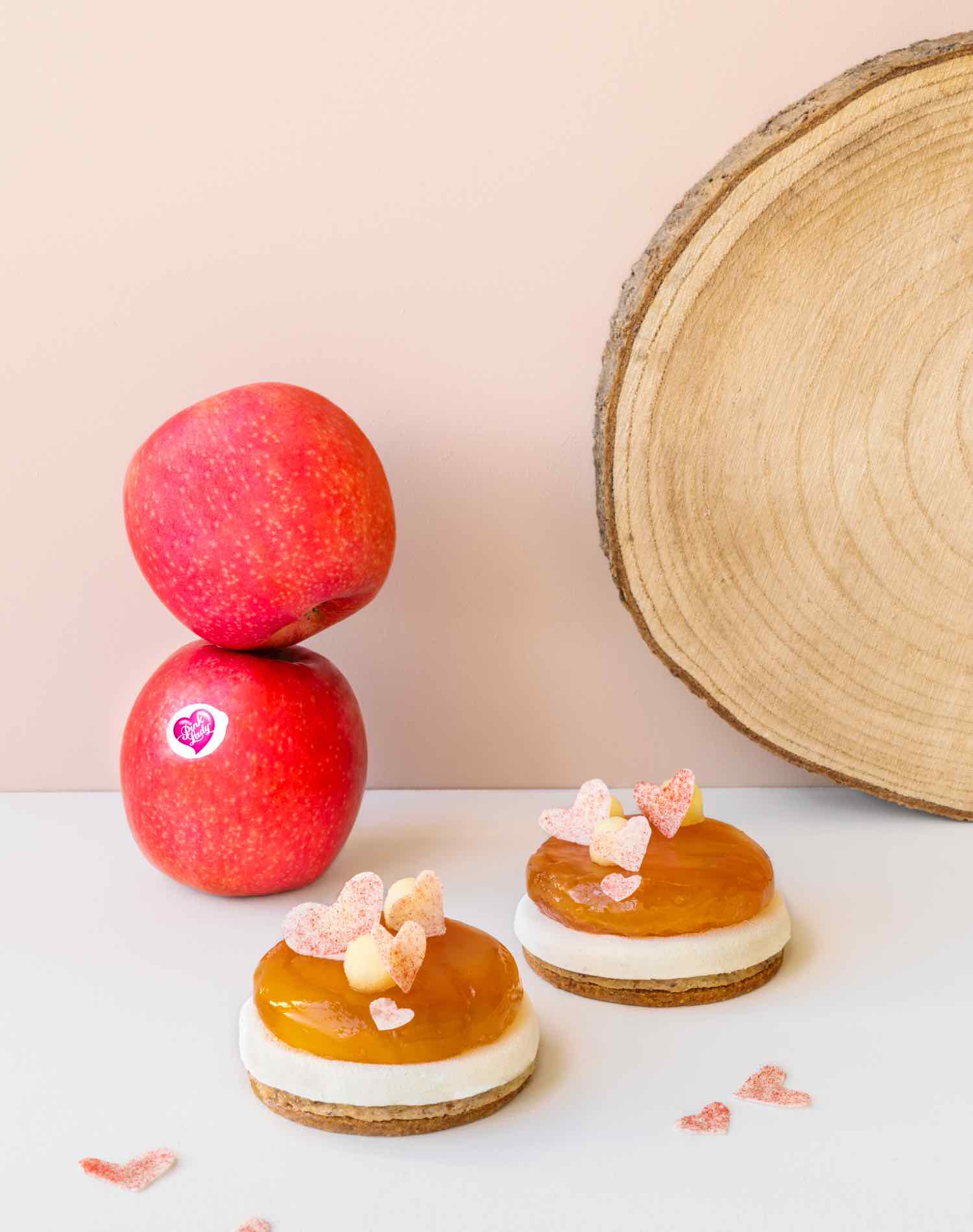 Ingrédients
Whipped cream Ganache
250g (2 x 125g) Liquid cream
56g White chocolate
1g Salt
1 Vanilla bean
1 Gelatine sheet
Recipe
What means : "As a Palet" here ? It's a reference to "Palet breton", the name of a french round shortbread.
Organisation, recipe steps
Some steps have to be done in avance, here is the order in which it is best to make it.
Whipped cream Ganache (chill 5h)
Apples
Apple syrup (Let infuse 2h)
Oven-roasted caramelized apples (chill 1h)
Apple compote
Vanilla shortbread
Hazelnut biscuit
Agar agar topping
Hearts chocolate for decoration
Assembly and finishing
Restricted access to the Petit Club :